How to increase the Conversion of a Website
Regardless of the type of online business, one problem every online business owner faces is converting their visitors into their customer. Conversion rate is so crucial that even 2% conversion rate is considered as a good for an e-commerce website. However, for a financial website conversion rate can be as high as 5% to even qualify for an average conversion website. Conversion of a website significantly depends upon the type of business. To understand this properly please look at the chart below explaining the medium, top 20% and top 30% conversion rate according to the type of business.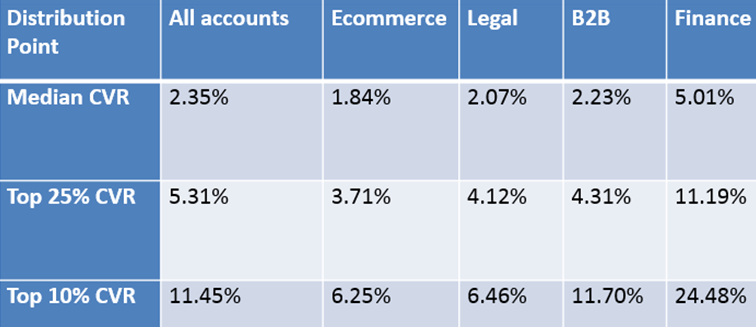 After seeing the above mentioned chart, it becomes very clear that if you have finance related website chances of having a conversion rate of 10% or above is very high but if you have an e-commerce website 2% to 4 % conversion will considered as a great conversion rate.
How you can increase the conversion of your website?
Now that you understood what an average and good conversion is, we can concentrate on finding ways to increase the conversion of your website.
Understand your audience:
Understanding your audience is one of the most important factors through which you can increase your conversion. Try to search your competitors who are doing exceptionally well in your niche. Try to understand their business strategy why they are successful and what are the small things that you can also do to change your website conversion. Create a live chat option on your website and try to get random feedback from your customer what they would love to get improved on your website.
Create unique and engaging landing page:
Just do not create a landing page similar to your competitors. Try to be exclusive and do not just offer free trials or similar stuff that is included in every second landing pages. The best way to improve the conversion is through offering engaging option on the landing page that will slow the entire process and force your website visitor to spend some time on your website. Sell your stuff after few clicks so that your visitor can understand everything and decide.
Play with the color and font of your buy button or conversion button
Do you know, you can double or even triple your conversion rate by just playing with the color and font of your website? Yes, you have heard it correct. Do not just make your visitors bore, try to keep including new thing in your website at every week or month this will give an impression to your returning visitor that there is few changes in the website. Even a color and small font can make a big difference.
So, above tips are few pointers that may increase the conversion of your website. If you are still facing problem with the conversion of your website then do not forget to contact our expert team. We can help you.
About Us:
We are one of the most trusted agencies offering high conversion websites for accountants and Bookkeepers, mortgage brokers and financial advisers. We also offer customized internet marketing suite to help you register a strong online presence. So, if you are a finance professional or accountant then just contact us right now and we will help you in boosting your online presence.
Back to the Blog